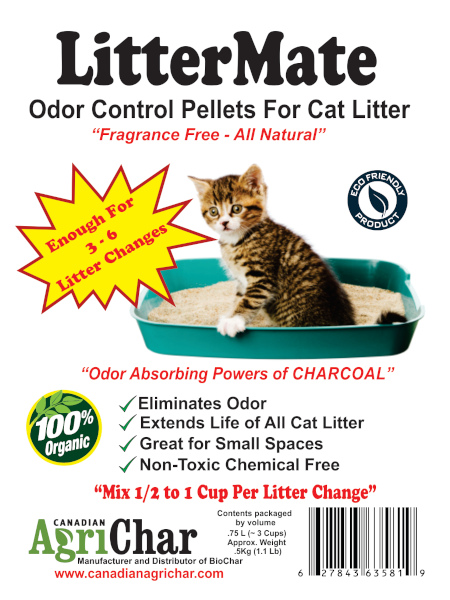 Odor Control Pellets For Cat Litter
All Natural – Fragrance Free
Odor Absorbing Powers of CHARCOAL
Eliminates Odor
Non-Toxic & Chemical Free
Extends Life of All Cat Litter
Only 1/2 to 1 Cup Per Litter Change
LitterMate
Specially designed "Odor Control" product for use with any cat litter. This non-toxic and chemical free product is great for controlling litter box smell in small spaces.
This product is 100% Organic


LitterMate's Unique Design
This product is formulated taking advantage of the "power of charcoal" which is used in air and water filters. The unique formula absorbs the ammonia smell of cat urine and feces extending the life of cat litter by 2 – 3 weeks or more.


LitterMate Application
Use only ½ to 1 cup per litter change, stirred in lightly at the time of each litter change. Best application is to put some cat litter into the litter box, add the LitterMate and then stir and add the remainder of the litter to complete your change.